This is the third installment of our First Responder News Blog.  We're still experimenting with both the format and the content, but the driving idea of this recurring series is to shine a light on the daily heroism of our nation's firefighters, police officers, paramedics, and EMTs.  
Needless to say, there's been no dearth of material so far.  Just do a simple Google search on any given day and you'll find dozens of positive news stories on the work of our first responders.  And that's essentially what we've done so far to find compelling stories to write about here.  We've monitored online news stories, social media feeds, and national newspapers to unearth their daily accomplishments both big and small.  
But this week, we're taking a slightly different approach.  In the following sections, you'll read about an inspiring encounter that I personally had with a local police officer.  I was only tangentially involved with the incident in question, but I witnessed more than enough to find a great deal of hope and instruction in this young officer's behavior.  But it's probably best to let the officer's conduct speak for itself.
Tranquility, Interrupted

 
Let's start with just a little bit of background information.  My wife and I share office space on Bloomington's Near West Side, just outside of our downtown area and adjacent to a neighborhood called Prospect Hill.  Prospect Hill is one of Bloomington, Indiana's most interesting historic districts.  Filled with dozens of well-preserved architectural gems and home to a diverse array of community oriented residents,  Prospect Hill is truly one of Bloomington's most attractive neighborhoods.  
And it was in this tranquil setting that I first encountered Officer Jacob Woods of the Bloomington Police Department.  Unfortunately, things were not so tranquil at the time that I personally met Officer Woods. In fact, things were actually very chaotic.  At least they seemed chaotic to me, but my tendency to overreact is one of the two thousand reasons I'm not a police officer.  A better indicator of the situation was the exemplary conduct of Officer Woods.  Unlike me, Officer Woods remained perfectly calm during a difficult situation.  Even more unlike me, Officer Woods seems to have been destined to be a police officer.  
In This Corner — Me, With No Idea What To Do
Here's how it started.  I was consulting with a client in my office when I stepped outside to retrieve something from my car.  Before I could reach the parking lot, however, I saw a sobbing young woman picking chunks of shattered glass from under the windshield wipers of her SUV.  With all the best intentions, I asked if she was okay.  Well, as it turned out, she was decidedly not okay.  
And she was not at all hesitant to tell me all the ways in which she was decidedly not okay.  She turned toward me and unleashed her heartbreaking story, continuing to pluck chunks of glass from under her windshield as she did so.  She had just been involved in an accident.  She was on her way to an absolutely crucial meeting with her fiance when she ran a stop sign and collided with another car.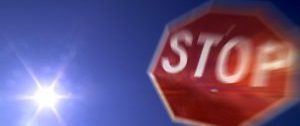 You see, her fiance was due to appear in Monroe County Circuit for a fairly serious charge.  The distraught young woman had nothing on her mind but being there to see him.    Her father was also very ill and no one would help her with him.  She was running out of gas and didn't have money to fill up her tank.  There were other details I'm sure, but I was too distracted to glean all of them after a bit.  
First, I was distracted because my heart ached for the young woman.  I am in no way making light of her situation.  My sorrow was all too real.  It actually rendered me less effective than I could have been.  By way of contrast, you'll soon see that Officer Woods was NOT rendered ineffective.  Nor was he rendered numb or indifferent to this young woman's difficulties.  
I was also distracted by the fact that she was half sobbing, half screaming at me.  She was sobbing and screaming and picking chunks of shattered glass off of her windshield.  Worse still, the young woman was bleeding.  The accident had left her uninjured, but the shattered glass did not.  She had cut her hand rather badly while picking it from her cracked windshield and, well, I had a bit of a mess on my hands.
In Which I Make Things Worse
She did not want medical attention.  I asked again and again, but no.  She was willing to clean up her wound in my office, but under no circumstances would she miss the opportunity to see her fiance in court.  In the meantime, she was on the telephone with her insurance company.  I forgot to mention that.  She was screaming/sobbing at her agent too, tearfully demanding her policy number to finish off the accident report.  
I made a series of unsolicited suggestions, most of which centered on the emergency room and slowing down just a little bit.  These did not go over well.  This continued for what seemed like hours.  I was finally given to understand that the Bloomington Police Officer who was doing the accident report needed her insurance policy number before she could leave the scene.  
It was then that I saw my chance to escape unharmed.  I sensed that I was in danger, in danger of being even more irritated.    I then hatched an ingenious plan.  Once the young woman finally retrieved her policy number, I dutifully walked half a block to where the accident occurred and Officer Woods was dealing with the other vehicle and what seemed like a year's worth of paperwork.  
I approached the squad car slowly, certain that the officer was as stressed out as I was.  He looked up calmly as I approached him like a reluctant crazy person.  I told him I was trying to help, etc.  He smiled and calmly asked that I wait a moment.  The other vehicle was in front of the squad car.  The driver of the second car was exactly as calm as I was.  In short, Officer Jacob Woods was surrounded by multiple forms of insanity.  
He finished with the paperwork quickly.  He then spoke to the other driver and walked over to deal with me.  He actually apologized for making me wait.  Yeah, apologized.  I gave him the policy number and he made it clear that this was helpful to him.  I asked if the young woman could go yet.  Unfortunately, she could not.  He still needed to talk to her.  I feared for his sanity.  I feared she'd get arrested.  I feared I might be inconvenienced a few minutes longer.
Enter The Dragon, Calmly
Not long after, Officer Woods spoke to the distraught young woman.  She was, alas, no calmer than she'd been with me.  She sobbed and yelled in Officer Woods' general direction and I knew that things were about to take an ugly turn.  But things did not take an ugly turn.  They improved immediately upon Officer Woods' arrival.  
He spoke to her gently, the kindness and patience never once leaving his eyes.  No matter how agitated the young woman became, his demeanor did not change.  He soothed her.  He told her in so many words that everything would be ok.  Through sheer kindness and calm, he accomplished in two minutes what I couldn't have in a lifetime.  
But he also did his job.  She protested in this and that way, but he instructed her calmly on what she needed to do to follow up on the accident.  He also told her that she was at fault for the accident.  And she understood.  She understood what she needed to do and how she'd been mistaken.  She also calmed down.  
I watched and listened in a sort of awe.  Granted, I am overly sentimental at times, but this young officer's humane treatment of this distraught young woman was one of the most beautiful things I've ever seen.  It was decency at work.  Officer Woods did his job.  He did what was necessary to protect the wider community, but he touched someone's life while doing so.
The Aftermath
And I think perhaps that life was mine.  As I watched Officer Woods deal with this young woman, I felt a slight twinge of shame.  I had overreacted.  I had panicked a bit in the face of the young woman's difficulties and became less effective.  Then I had been at least a bit selfish.  I had things to do, right?  I had possibly lost a client and needed to get on with my afternoon.  But Officer Woods was my exact opposite that day, and I felt a tiny twinge of shame.
The shame passed quickly however.  I was smart enough (for once) to allow this young officer's exemplary behavior to teach me something.  Following his lead, I drove the young woman to the courthouse and sat with her until her fiance was set to appear.  During the interim, one of his family members appeared and offered to take the young woman home etc.  I have not heard from her since.  
I have thought about Officer Woods many times.  When viewed from afar, in the newspaper and on the internet perhaps, life today can seem impossible, almost unlivable I sometimes fear.  But when seen from up close, when seen from the vantage that Officer Woods offered me that day, it seems like something else altogether.  I no longer feel ashamed because of Officer Woods' example.  His behavior was a lesson in humanity.  I was simply his pupil for a time, and there's no shame in becoming teachable.