What Is A Recognition Photo Display?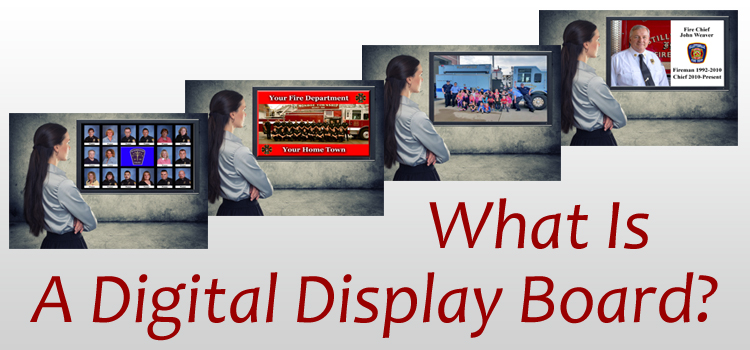 Our digital photo displays are a modern take on an age-old tradition.
Put simply, our employee digital photo display was designed as a modern alternative to the old-fashioned group composite photo. Our digital photo board is a subscription based service designed to introduce the members/employees of your organization and showcase all the hard work that they do.
How Your Digital Employee Photo Display Works
Your digital employee display board incorporates photos of each team member displayed on a flat panel TV that can be mounted anywhere you have WiFi access. Your display also has digital slideshow functionality. You can promote department events, team accomplishments, new hires, organization history or whatever else you would like to highlight. Since your digital photo display operates using WiFi, there is no special wiring needed and your digital display board can be playing in multiple locations simultaneously.
The best part is that we here at Recognition Photo Displays maintain every aspect of your digital employee display for you! To begin with, we work closely with you on the initial design of your display. We can incorporate logos, slogans, specific colors, historical photos or whatever you would like. We can also organize your employee display any way that works best for your organization: everyone on one board, divided by department, arranged by seniority, whatever you prefer. Once your initial employee wall display is up and running, changes are simple to make! Whether it is a new employee or someone retiring or leaving, let us know and we will update the display accordingly. This way your Recognition Photo Display is always up to date and looking great!
Want to know more about our digital employee photo displays and how they work? Feel free to click the link to our Frequently Asked Questions to get the answers about the hardware and equipment needed to use our service. Here at Recognition Photo Displays think you will be pleased to find that it is much easier and cost effective that you could ever imagine.