This week, we continue our recurring First Responder News Blog with a report on an  Emergency Responder Award Ceremony in Georgia and a touching local story of friendship, service, and giving among Indiana Sheriff's Departments.  
Remember– if you have any first responder news you'd like to see us discuss, please contact kirk@recognitionphotodisplays.com immediately.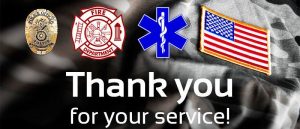 The Fannin County Awards Banquet
It was a festive evening in Blue Ridge, Georgia when members of Fannin County's emergency response teams converged on Willow Creek Falls for their 2017 Christmas Dinner and Awards Banquet.  Members of three different emergency departments and their families were in attendance– The Emergency Management Agency (EMA), Emergency Medical Services (EMS), and the Fire Department.  
After a traditional holiday meal,  yearly department awards were presented to honor the outstanding work of peer nominated Fannin County emergency responders. Director Robert Graham and Fire Chief Larry Thomas were in attendance to present these much deserved awards.  
The following personnel were honored:
Paramedic Bobby Long received Fannin County's Paramedic of the Year Award.
Spencer Kitchens was named the Emergency Medical Technician of the Year.
The Fannin County Fire Department Rookie of the Year Award went to Tim Grant.
Chief Thomas presented the Volunteer of the Year Award to his son Josh.
Veteran Channing Johnstone received the Firefighter of the Year Award.
Ryan McDaris was the proud winner of the Officer of the Year Award.
Jason Turner won the Lawrence Waters Rescue Award.
Darrin Conner was the recipient of the Communications Officer of the Year Award.
Congratulations to everyone who was recognized for your service and dedication!
Indiana Sheriffs Play Santa for A Deputy Deployed Overseas
Monroe County Sheriff's Deputies Dillen Friend and Don Kress-Teague have been linked as friends and colleagues for many years.  Their friendship began at the police academy, where Friend and Kress-Teague graduated together prior to joining the Monroe County Sheriff's Department in 2013.  
They developed an ever deeper bond when Friend recently fulfilled a longtime desire to join the U.S. Marine Corps Reserves. Kress-Teague had been enlisted in the Marine Reserves since 2003 and was eager to lend his support, especially when Deputy Friend was deployed to serve in Afghanistan.  
During their occasional online correspondence, Friend told Kress-Treague that there was no military commissary store where he and his fellow soldiers were stationed.  This meant that they were unable to purchase the daily hygiene items and creature comforts these stores usually make available.  
Upon discovering this, Kress-Teague immediately decided to help. He took up a collection for his longtime buddy, eventually gathering enough donations to send him 50 pounds worth of useful supplies.  
This generosity quickly caught the eye of Monroe County Sheriff Brad Swain, who took it upon himself to recruit elves from sheriff's offices all over Indiana to send cards or care packages to Deputy Friend.  The response was incredible.  Deputy Friend might not be home until next summer, but he certainly won't lack for treats and good wishes this holiday season.