Hello everyone and thank you for visiting our First Responder News Blog!  This is the third installment of an ongoing series that presents stories of the everyday dedication, sacrifice, and heroism that emergency personnel demonstrate all over the country.  The driving idea of this blog is to draw attention to the often thankless work of police officers, firefighters, and paramedics/EMTs and recognize their accomplishments.  
Last time we related a detailed story of the compassion and professionalism that a local police officer displayed while dealing with a young woman in the aftermath of a car accident.  This time, we've again roamed the country to track down stories of similar 'ordinary' heroism.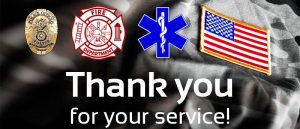 Firefighter of the Year Award in Katy, TX
On December 2 of last year, Jarrod Bowen reached a pinnacle in his lifelong dream of helping others.   It happened in Katy, TX — a city of some 20,000 people just west of Houston — when American Legion Post 164 rewarded his efforts with their Paramedic of the Year Award.  
Katy Fire Department Chief Russell Wilson nominated Bowen for this prestigious award.  Citing his enthusiasm, dedication, and desire to learn, Wilson nominated him for 'service that goes above and beyond.'  But according to Bowen himself, the award was simply an outgrowth of the daily commitment he observes in his colleagues every day.  
Bowen displayed a sincere humility upon receiving the award.  He deferred to his fellow firefighters, emphasizing the importance of teamwork and the need for continuous improvement.  Jarrod Bowen embodies the diligence and community concern that our first responders demonstrate all over the nation.
 The 2017 EMS World Expo Awards
At the end of last year, The Emergency Medical Services World organization teamed with the National Association of Emergency Medical Technicians honored five individuals with their 2017 National EMS Awards of Excellence.  
The honorees included:
Terry Bottjen for NAEMT/NASCO Paramedic of the Year

U.S. Army Sergeant Jacob Ponczkowski for Military Medic of the Year

David Wampler, PhD for The Best Research Award

Ginny Renkiewicz for EMS Educator of the Year

Ryan Houser for the NAEMT/Braun Industries EMT of the Year
Congratulations to all of these dedicated professionals for their hard work, courage, and community spirit!  
That's all we have for now, but we'll present another First Responder News Blog very soon.  Please contact us at kirk@recognitiondisplays.com if you have a story you'd like us to cover.  We'd love to hear from you!