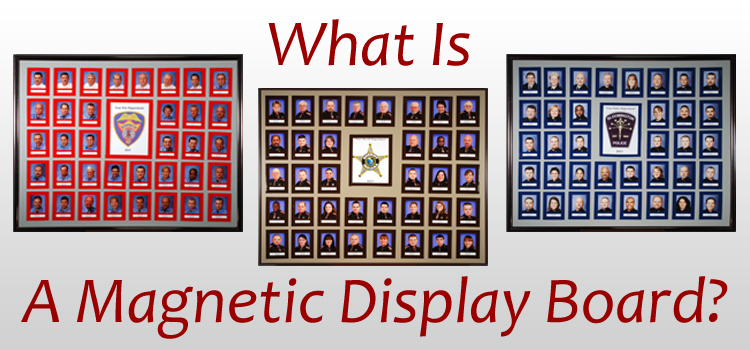 We here at Recognition Photo Displays understand that not all offices or organizations would be able to make use of our Digital Photo Display.  Perhaps your office is not open to the public all the time, you have fewer people in your organization or your budget won't allow for the cost of a monthly subscription service.  Knowing this, we came up with our DIY version of a photo composite that would traditionally hang in an office or organization.
The use of magnetic photo mats allows you to arrange your board in whatever style you wish, allowing you to tailor the board to your office.  Unlike other products, our magnetic photo board does not lock you into an arrangement of the photos in your display.  Our Magnetic Photo Board offers you the ability to rearrange photos as needed as your department or organization grows and changes.  It also allows you the ability to easily change out photos or names and titles in minutes.
Our staff Magnetic Photo Boards come in a variety of color combinations and sizes, making it simple to find one that will fit the style and feel of your organization.  You can click on the Order Form link below to print out a hard copy of our stock order form to fill out and mail in.  Also, please feel free to contact our office, either by phone at 812-339-2060 or email at customerservice@recognitionphotodisplays.com, for exceptional one on one customer service.  We look forward to hearing from you!