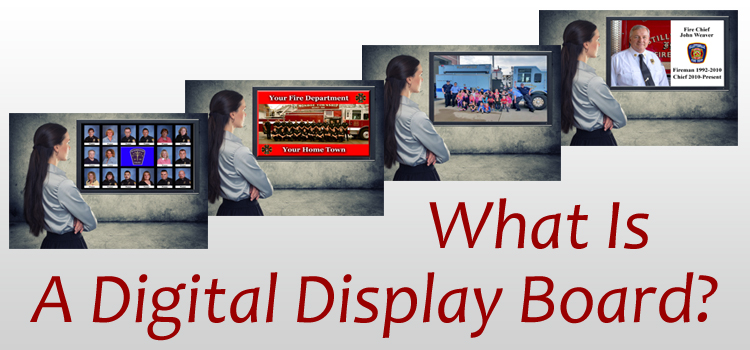 Put simply, we help you acknowledge the accomplishments of your team and show them off to the community.  Designed as a hands free alternative to the old-fashioned group composite photo, our digital photo board offers a web based subscription service designed to introduce the people who make up your organization and all the hard work that they do.
The result?  A digital photo display is a win-win proposition.  Within your department, it will encourage teamwork, communication, and the pursuit of common goals.  Your display will also help improve public relations.  Day in and day out, members of the community will see your people from up close and appreciate them all the more because of it.
Your display has photos of each individual team member that are shown on a flat panel TV that can be mounted anywhere you have WiFi access.  It also has digital slideshow functionality.  This will allow you to promote department events, acknowledge team accomplishments, and show your people out in the field.  Since the display operates using WiFi, there is no special wiring needed and your display can be in multiple locations simultaneously.
Want to know more about our Digital Displays and how they work?  Feel free to click on the links below for some demos of sample displays, the plans available for our service and some Frequently Asked Questions about the hardware and equipment needed to use our service.  I think you will be pleased to find that it is much easier and cost effective than you could imagine.
Still have more questions or concerns?  Feel free to call us at 812-961-2068 and discuss the possibilities today!